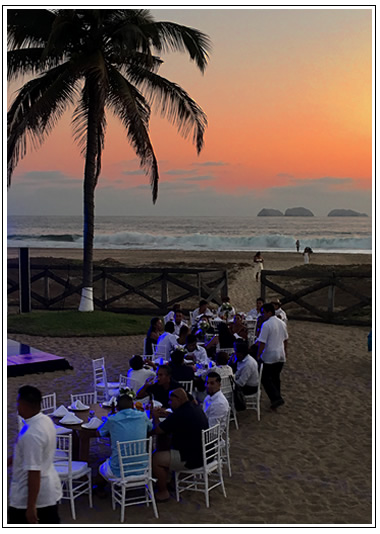 Ixtapa - Zihuatanejo, Mexico, is the perfect, romantic place to exchange or renew your weddings vows. Wedding coordinator Isabel Pais will arrange everything ...
This is a two for one destination that delivers top value for couples that like to mix old and new.

IXTAPA is a collection of modern hotels strung out along Palmar bay, which is bordered by flat white sand beaches and gentle waves.

ZIHUATANEJO, four miles away, is an old fishing village with pleasing simple elegance and a laid back lifestyle.
We will arrange your wedding anywhere in the state of Guerrero including Troncones, Acapulco and Taxco.
We arrange everything for weddings including:

* WEDDING SERVICES, JUSTICE OF THE PEACE, PRIEST, MINISTER
* RENEWAL OF VOWS, ANNIVERSARY
* AT THE BEACH, CHURCH OR TEMPLE
*RESTAURANT, BALL ROOM, RECEPTION LOCATION
*MARRIAGE LICENSE, RINGS FLOWERS & BOUQUET, LEIS
*FLORAL ARCHES, ARRANGEMENTS
*WEDDING CAKE
*VEHICLES
*MUSICIANS PHOTOGRAPHER, EDITED VIDEO
*WITNESSES , RECEPTION DECOR, TABLE ARRANGEMENTS, REHEARSAL DINNER, ETC.
*SUNSET SAILS
*INDULGENCE MORNING: WITH MANICURES, PEDICURES, MASSAGES, HAIR & MAKEUP STYLING
*FISHING & GOLFING ARRANGEMENTS
*AIRPORT GREETING AND PICKUP